In the modern logistics centre in Komenda, we offer you the possibility of storing the goods in quality and excellently equipped spaces, which are also accessible by smaller trucks. The temperature regimes range from –20 °C to 4 °C. Our advantages include highly trained personnel, top-of-the-line equipment and the most advanced IT support. At any moment, we can access the information about the supply and the condition of your goods, and we monitor the whole warehousing process with a modern IT system.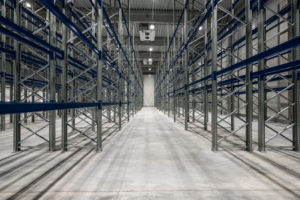 2500 pallet spaces
4 loading ramps
2,500 m² of surface area
13 loading ramps
---
Our logistics centre has the surface area of 5,000 m², 17 loading ramps and 4 loading ramps that are adapted for smaller trucks. We can provide warehousing for a longer or shorter time period. We also offer you the services of repackaging and equipping the goods with declarations and relevant codes.
---